Quesadilla with Caramelized Shallots
Total time: 35 minutes
    Traditional quesadillas consist of something cheesy between two corn tortillas, eaten with fingers like a sandwich.  This is a 'knife and fork' version, half per person...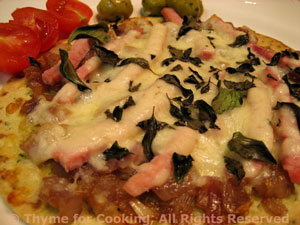 Ingredients:
 Instructions:
Peel and slice shallots. 
Heat oil in nonstick skillet.  Add shallots and 2 tbs water.  Cover and cook for 5 minutes over medium heat. 
Uncover and continue to cook until browned and caramelized, stirring occasionally, about 15 minutes. 
Slice ham into matchsticks. 
Place tortilla on a baking sheet. 
 Spread the shallots on the tortilla. 
Lay the ham on the shallots. 
Sprinkle with cheese and top with herbs. 
Bake, 400F (200C) for 8 - 10 minutes, until hot and cheese is melted. 
Remove, cut into wedges and serve.