Polenta Stacks with Avocado Cream
Lamb and Vegetable Kebabs with Minted Yogurt
Summer Couscous
Polenta Stacks with Avocado Cream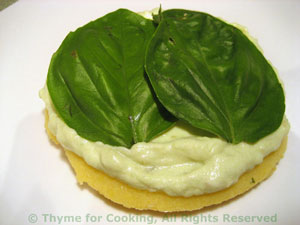 Total time: 15 minutes
    A thin layer of polenta, covered with a creamy avocado and goat cheese spread, paper thin tomatoes, and a bit of Prosciutto and olives: a simple 'stack' for summer.
 Ingredients:
2 tbs + 1 tsp polenta
1/2 cup (4oz, 120ml) chicken stock
4 tbs soft, ripe avocado 
2 tbs soft goat cheese  
4 basil leaves
1 tomato
1 slice Prosciutto 
6 Greek olives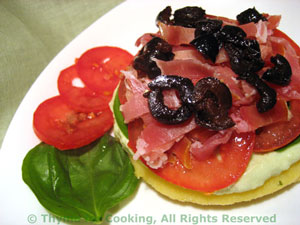 Instructions:
The Polenta:
Heat chicken stock to boiling in a small saucepan. 
Stir in polenta and cook, 5 minutes, stirring, until very thick. 
Lightly oil 2 dishes with flat bottoms, about 3" in diameter. 
Spoon the polenta in, flatten it and allow to cool completely.
The Avocado Cream:
Mash the avocado and goat cheese together with a fork until well combined and creamy.
The rest:
Slice tomato paper thin. 
Shred the Prosciutto.
Pit and slice the olives.
To assemble:
Remove the polenta circles and put on 2 plates. 
Divide the avocado cream and spread to the edges of each polenta circle. 
Lay the basil leaves on the avocado cream. 
Top with the tomato slices in an overlapping circle. 
Add the Prosciutto and olives. 
Garnish with anything leftover.....  Serve.
Note:  Leave the unused portion or half of avocado in the skin.  Sprinkle with lemon juice, wrap tightly in cling film and store in the fridge, cut side down, on a plate.  Use within 2 days.