Pimientos Stuffed with Ham and Chevre
Red-Cooked Salmon with Peanut Sauce
Fried Rice with Broccoli
Pimientos Stuffed with Ham and Chevre
Total time: 20 minutes
   This is a simple, stuffed pepper, using pantry / refrigerator staples - at least, their staples at our house....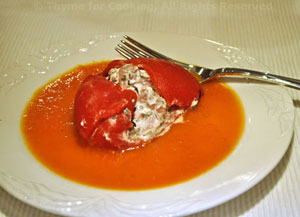 Ingredients:
 Instructions:
Pimentos:

Drain the pimientos.
Roughly chop the ham.
Combine the ham, garlic powder and goat cheese.
Stuff the pimientos with the chevre mixture and put in a baking dish just large enough to hold them.
Bake in a 400F (200C) for 15 minutes.

Tomato Sauce:

Finely chop shallots and garlic.
Heat oil in small sauce pan over medium heat. Add shallots and garlic and sauté until tender, about 5 minutes.
Add the remaining ingredients and bring to a boil over medium heat. Reduce heat, cover and simmer for 5 minutes.
Put in blender and purée until smooth.

To serve:

Spoon some tomato sauce on two small plates, top with a Pepper and serve.