Mushrooms Stuffed with Bacon and Tomato
Seared Scallops with Prosciutto on Tarragon Cream
Potato Gratin a la Two Fat Ladies
Braised Carrots and Onion
Mushrooms Stuffed with Bacon and Tomato
Total time: 20 minutes
    I love stuffing vegetables.  This is a less-caloric version of a recipe I made years ago, stuffing the mushrooms with lots of bacon and cream cheese - full fat of course.  That was good; this is better... And so much less guilt! The Vinaigrette is much thicker and more intense than I would use for a lettuce salad, but works well with the mushrooms and sliced tomato.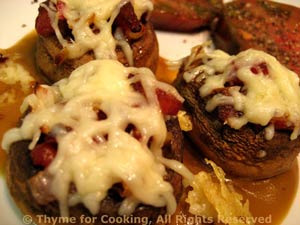 Ingredients:
6 large button or cremini mushrooms, 1 1/2 - 2" (3.75 - 5cm) in diameter
1 tbs olive oil
1 tbs soy sauce
2 shallots

or a small onion

2 slices bacon
2 ripe tomatoes
1/4 cup (1oz, 30gr) shredded cheese
Balsamic Vinaigrette:
1 tbs Dijon-style mustard
2 tbs Balsamic vinegar
2 tbs good olive oil
 Instructions:
Clean mushrooms, removing stems.  
Finely chop the shallots.
Chop bacon.
 Cut 3 thick slices out of each tomato.  Set aside 4 slices and chop the other 2 slices. 
Heat oil and soy sauce in nonstick skillet over medium-high heat. 
Add mushroom caps and sauté until light brown, 3 minutes, turning once. 
Remove and place on a baking sheet - with a lip so they don't slide off.
Add shallots, bacon and sauté until the shallots are tender and the bacon crisp. 
Remove shallots, bacon with a fork or slotted spoon and put in a small bowl. 
Add the chopped tomato and stir to combine. 
Spoon mixture into the mushroom caps, dividing evenly.
Sprinkle, carefully, with cheese.
Bake in 400F (200C) oven for 10 - 12 minutes, until they are light brown.
Balsamic Vinaigrette:
Combine mustard and vinegar in a small bowl.  Slowly add oil, whisking constantly, until thick.
To Serve: 
Place two tomato slices on the side of each plate. 
Spoon half of the vinaigrette on to the other side and place 3 mushroom caps on top.