Melon with Ham
Total time: 10 minutes
       This is a very subjective starter for all its simplicity.  In Spain you would get 4 big wedges of a long, green melon somewhat similar to a honeydew but with a hint of watermelon.  When I would ask what kind of melon it was, I would get an incredibly blank stare and a "how can anyone be that stupid!" look, along with the answer "It's melon!".  The melon would be covered in Iberian, Serrano or Jabugo - types of Spanish dry-cured ham.  In France you will get a small, orange Provençal melon with Bayonne ham.  In Italy, a honeydew with Prosciutto.  Why am I telling you all of this you ask?   Because...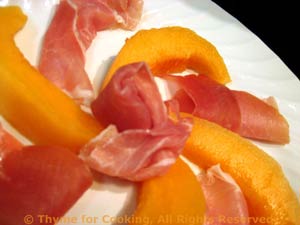 Ingredients:
1 melon, your choice

  

Get whatever's in season and ripe (not watermelon) - preferably from a farm stand so it's local

6 - 10 paper-thin slices dry-cured ham

,

your choice:  Prosciutto, Serrano..
 Instructions:
Cut the melon in half and scoop out (and discard) seeds. 
Cut into wedges.  How many wedges you serve depends, (you guessed it) on the size of the melon. 
Arrange wedges on large plates, add ham around/over wedges and serve.