Baked Goat Cheese with Dates and Nuts
Braised Lamb with Chickpeas and Butternut Squash
Simple Couscous
Baked Goat Cheese with Dates and Nuts 
Total time: 15 minutes
   Our little green grocer had some very sweet Medjool dates that inspired this.  They were sold individually... I bought 6. They were almost like candy.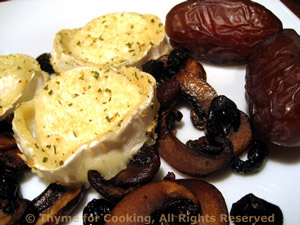 Ingredients:
3oz (90gr) aged goat cheese, with white rind 

1 slice from a large log or several from a small one

1 tbs dried breadcrumbs
4oz (120gr) mushrooms
1oz (30gr) pecan or walnut halves
1oz (30gr) Greek olives, 10 - 12 olives
2 tsp olive oil
1 tsp Worcestershire sauce

4 - 8 dates, depending on size, 

Medjool or other
 Instructions:
Trim and slice mushrooms. 
Pit the olives if needed and cut in half or thirds. 
Heat oil in medium skillet.  Add mushrooms and sauté until golden brown. 
Add Worcestershire, olives, nuts and sauté 2 minutes longer. 
Slice cheese into 6 rounds (if small log). Each round should be between 1/4 and 1/3" (.75 - 1cm) thick.
Put bread crumbs on a plate.  
Dip both sides of the cheese in the crumbs and place on a nonstick or lightly oiled baking sheet.  
Bake, 400F (200C) for 2 - 4 minutes, just until you see the tops sink slightly or cheese ooze slightly.  If it hasn't happened after 4 minutes, take them out anyway - they're ready.
Spoon the mushroom mixture onto 2 plates.
Top with 3 slices of goat cheese; add the dates and serve.