Sautéed Endive with Avocado
Scallops Provençal
Quinoa with Browned Shallots
Brussels Sprouts with Lemon Butter
Sautéed Endive with Avocado
Total time: 25 minutes
   This is a simple first course winter salad.  The creamy avocado offsets the natural bitterness of the endive.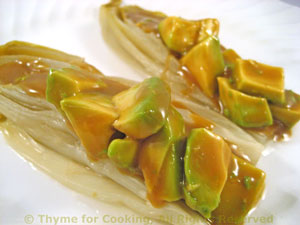 Ingredients:
2 Belgian endive
1 tbs olive oil
1 tsp soy sauce
1/4 cup water
1 avocado
Balsamic Vinaigrette:
1 tsp Dijon-style mustard
2 tsp Balsamic vinegar
3 tbs good olive oil
 Instructions:
Remove 2 or 3 outer leaves from endive.  Rinse endive lightly. Cut each in half the long way. 
Heat oil, over medium heat, in a nonstick skillet large enough to hold the endive flat, in one layer. 
Add endive, cut side down, and sauté until starting to brown, about 5 minutes. 
Turn and sauté the other side. 
Add water and soy sauce, cover and simmer until the stem end is tender when pierced with a sharp knife, 7 - 10 minutes longer. 
Uncover, spoon the liquid over the endive, then continue cooking another 1 - 2 minutes. 

To finish: 

Remove endive and arrange on plates.
Cut the avocado in half, remove pit, and cut into chunks
Arrange avocado on endive halves, drizzle with vinaigrette and serve.
Balsamic Vinaigrette:
In a small bowl whisk vinegar and mustard. 
Slowly whisk in olive oil, until emulsified.