Rainbow Vegetables 'en Cocotte'
Total time: 45 minutes
    Colorful vegetables, finely chopped, lightly sautéed, then baked with eggs and cheese... An easy first course. Serve directly from the ramekins.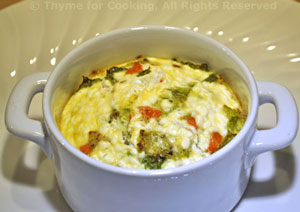 Ingredients:
1 carrot
2 leaves Savoy cabbage
1 small leek
4 tsp butter
3 eggs
1 tsp Dijon-style mustard
2 tsp milk
3 tbs shredded cheese
 Instructions:
Finely chop carrots and cabbage.
Thinly slice leek.
Heat 2 tsp butter in medium skillet.  Add vegetables and sauté 8 - 10 minutes, until tender.
Use remaining 2 tsp butter to thoroughly butter 2 ramekins.
Whisk eggs.
Add mustard, milk and cheese, whisk.
Divide vegetables and place in ramekins.
Pour egg mixture on top of vegetables, dividing evenly.
Put ramekins into a baking pan (I use a bread pan) with deep sides.  Pour hot tap water into the pan coming half way up the sides of the ramekins.
Bake at 375F (180C) for 30 minutes.
Remove and serve directly from the ramekins.