Egg Linguini with Avocado Sauce
Baked Salmon with Sesame-Soy Glaze
Basmati Rice with Mushrooms
Snow Peas with Sesame Seeds
Egg Linguini with Avocado Sauce
Total time: 30 minutes
    A spring  update on the 'Egg Noodles with Prosciutto', these noodles are dressed with a light, warm avocado sauce.  Garnish with a few cherry tomatoes to add color.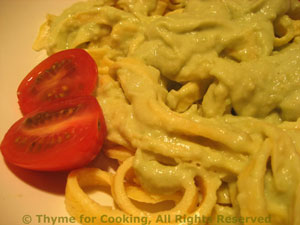 Ingredients:
Noodles:
3 eggs
2 1/4 tsp flour
4 1/2 tsp milk
1 tsp oil
Sauce:
1 avocado 
1/3 cup (3oz, 90ml) chicken stock
1 tbs lemon juice
2 tbs Greek or plain yogurt
Garnish, optional
2 - 4 cherry tomatoes
 Instructions:
Sauce:
Cut avocado and remove pit (see techniques).
Scoop it out of the shell and put it into a blender. 
Add chicken stock, lemon juice and purée until smooth. 
Pour it into a small saucepan and gently heat until just warm. 
Stir in yogurt, keep barely warm until needed.

Noodles:

 
Put eggs in medium bowl and whisk well. 
Add flour, a little at a time, sprinkling it across the eggs, and whisking well after each addition.  Try to avoid lumps. 
Add the milk  and whisk well. 
Heat the oil in a medium nonstick skillet or omelet pan, 7 - 8" (20cm) in diameter, over medium heat. 
Add 1/3rd of the egg mixture, tilting pan to cover well.  Let cook, undisturbed for 1 - 2 minutes, until cooked through and top is dry. 
With a spatula, carefully turn and cook on the other side for 30 seconds. 
Remove to a plate.  Do not keep warm. 
Repeat twice more. 
When eggs are done, and cooled slightly, roll each up like a cigar and slice 1/4" (.6cm) strips. 
Divide strips in half.  Arrange on plates, spoon sauce over, garnish and serve.