Crab Salad with Avocado Slices
Total time: 10 minutes
    A bit of crab, with celery, makes a nice salad to accompany a sliced Avocado.  It's a rich first course, so we keep the quantities small.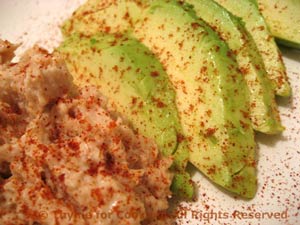 Ingredients:
6oz (180gr) crab meat, canned or fresh
1/4 cup chopped celery
2 tbs good olive oil
2 tsp Dijon-style mustard
2 tsp tarragon white wine vinegar
1 avocado
paprika, for garnish
 Instructions:
Drain canned crab meat well and put into a large bowl.  Roughly chop if needed.
Chop the celery and add to the crab.  
In a small bowl mix olive oil, mustard and vinegar. 
Add vinaigrette to crab and very gently mix - just barely.
Remove the pit from the avocado and slice.  
Fan the slices out on each of two small plates. 
Divide the crab and arrange on avocado slices. 
Sprinkle with paprika and serve.