Warm Chevre Toasts with Wild Mushrooms
Braised Veal with Garlic on Gnocchi
Peas with Leeks
Warm Chevre on Prosciutto with Wild Mushrooms
Total time: 35 minutes
   The pungent goat cheese, salty ham, sweet shallots and woodsy mushrooms combine to taste like autumn. The chevre for this should be a log that is aged.  That means it will have a thin, edible rind and can be sliced easily.  You can use a soft goat cheese, it will just melt faster and be a bit harder to work with.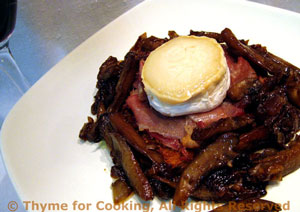 Ingredients:
2 slices chevre (goat cheese) 3oz (90gr) or about 1/2" (1.25cm) thick 

or other strong cheese

2 slices Prosciutto, (1.5oz, 45gr)   or other dry-cured ham, Bayonne, Serrano
2 slices bread - country or whole grain is best
2 tbs whole grain mustard
2 medium shallots
2 tsp olive oil 
1 tbs water
2 tsp brown sugar
2 tsp Balsamic vinegar
1/2 tsp sage leaves
4oz (120gr) wild mushrooms, or any mushrooms
1 tbs olive oil
1 tbs Worcestershire sauce

1 tbs truffle oil - or other nice olive oil

- optional,  don't bother with corn or canola, it's strictly for flavor
 Instructions:
Shallots: 

Slice shallots about 1/4" (.5cm) thick. 
Heat 2 tsp olive oil in nonstick skillet over medium heat and add shallots. 
Sauté 10 minutes, until starting to brown. 
Add water (it helps speed things up and prevent burning), stir well and cook for about 20 minutes, stirring occasionally, until nicely browned.  Turn heat to low if cooking too hard. 
Add brown sugar, vinegar, sage, and cook, stirring for 2 more minutes. 
Remove to a plate. 
Mushrooms:
Clean and thickly slice the mushrooms. 
Heat oil and Worcestershire sauce in the same skillet.  Add mushrooms, and stir well to coat. 
Sauté over medium heat until mushrooms are nicely browned, 10 - 12 minutes, depending on type and size. 
When done add the caramelized shallots and stir well to combine.  Keep warm. 
Slice Prosciutto into strips. 
Toast the bread, then cut 1 round from each slice, as big as you can (use a bowl as a guide if needed)
To assemble: 
Preheat broiler. 
Put bread rounds on a baking sheet. 
Divide mustard and spread on the bread. 
Arrange the Prosciutto on top of the bread. 
Place one slice of cheese on top of the Prosciutto. 
Broil just until cheese starts to melt, 45 - 60 seconds. 
Remove and put on plates. 
Spoon the mushrooms around the toasts, drizzle with oil  if using, and serve.