Tomato with Fresh Mozzarella and Basil,
aka: Caprese salad
Total time: 5 minutes
    This is one of the simple, classic, Italian Summer Salads, and seen on menus all around the Mediterranean.  It's best served with the freshest mozzarella you can find... Which can be difficult if you don't live in Italy.  We try!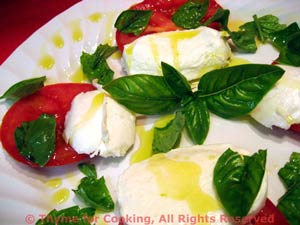 Ingredients:
1 ball mozzarella de Bufala, 4oz (120gr) net weight
2 - 3 garden ripe tomatoes
1 large handful fresh basil
Balsamic vinegar
salad olive oil
 Instructions:
Select 2 lovely, large dinner plates. 
Slice the mozzarella into 6 or 8 slices - this depends on the shape of the mozzarella and the sharpness of your knife. 
Slice tomatoes - you want 4 nice slices per person about 1/4 inch thick, so you will use 2 or 3 tomatoes depending.... 
Tear large basil leaves in half, leave small ones whole. 
Arrange tomato and mozzarella artfully on plates, toss basil leaves on top. 
Serve, with oil and vinegar on the side to be added by each person to taste. 
Note: if you have nice cruets for the oil and vinegar use them.  If not small bowls with small spoons work fine - or, just put the bottles on the table...