Caesar Salad
Grilled Lemon Shrimp
Pasta with Fresh Tomato Sauce
Green Beans with Garlic and Rosemary
Classic Caesar Salad  
Total time: 15 minutes   plus 5 minutes earlier
     This is the hub's specialty....  From the Joy of Cooking. He has left out the raw egg on occasion, and it worked fine without it.  Anchovies are classic  - but it's still good without them, as well. If you use the raw egg, it's easiest to use your hands to mix the salad.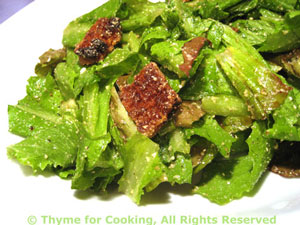 Ingredients:
2 cloves garlic
1/4 cup good olive oil
3/4 cup bread cubes, preferably cut from a bakery loaf or 'French' bread
3/4 tsp salt
1/2 tsp dry mustard
lots of black pepper
3 anchovy fillets, mashed or the equivalent in anchovy paste
1/2 tsp Worcestershire sauce
1 1/2 tbs red wine vinegar
juice from 1/2 lemon
1 egg, raw  

optional

2 tbs Parmesan, freshly grated
1 large, fresh head of Romaine lettuce  

none other will do
 Instructions:
Earlier in the day or the night before:

  Peel garlic, cut each clove in half and put it, along with 1/4 cup olive oil, into a small glass dish or glass measuring cup.  Cover with cling film and set aside to steep. 
When ready to use, remove and discard garlic.  Or use it for something else.

The croutons:

Heat 2 tbs of the garlic oil in a nonstick skillet.  Add the bread cubes and sauté until golden. 
Remove and drain on paper towels. 

The lettuce: 

Wash and spin-dry the Romaine.  Tear it into large bite-size pieces.

The salad:

Mash the anchovies in the bottom of a large salad bowl. 
Add the salt, pepper, mustard, Worcestershire, vinegar, remaining garlic oil and mix lightly with a fork. 
Squeeze the lemon half over, sprinkle with Parmesan and mix lightly again. 
Add the Romaine and toss well with tongs or salad forks.  
Add the croutons, toss a bit more. 

At this point, if you are using the egg:

Crack the egg into a small bowl and break the yolk. Add it to the salad and toss well to mix, hands work best but a tongs will do.  Serve immediately.