Artichokes with Dill Dip
Shrimp Persillade over Pasta
Roasted Asparagus Balsamic
Artichokes with Dill Dip
Total time: 55 minutes
           The artichokes take about 40 minutes to steam. This can be done anytime and the artichokes can be served warm or cold.  Have a bowl for the discarded leaves and have a small, sharp knife handy so that when you get all of the leaves off and are at the fuzzy choke you can cut it off and enjoy the artichoke bottom.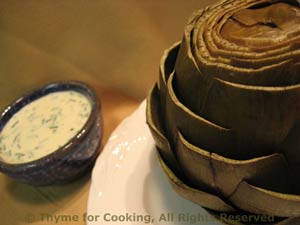 Ingredients:
2 globe globe artichokes
1 tbs lemon juice
Dill Dip:
1/4 cup (2oz, 60gr) Greek or plain yogurt
1/4 cup (2oz, 60gr) mayonnaise
1 tsp dill weed (dill leaves)
1 tsp snipped fresh chives
1/4 tsp garlic powder
1/4 tsp soy sauce
 Instructions:
Cut off bottoms of artichokes and remove any tough lower leaves. 
Dip in water to which a tbs of lemon juice has been added (to prevent discoloration). 
For a nicer presentation cut off the tips of the bottom half of the leaves - using a scissors. 
Cut the top 1/3rd of the artichoke off and discard.  Don't worry about the choke (fuzzy hairs inside)
Put in steamer and steam 40 - 50 minutes, depending on size. They're done when a sharp knife goes in easily.
Serve artichokes with small bowl of Dill Dip, pulling the leaves off, dipping and scraping the edible flesh off of the tough leaf with your teeth. 
Dill Dip:
Mix all ingredients in small bowl. 
Best if made at least 30 minutes in advance.  Serve.