Rhubarb Yogurt Parfait
Total time: 20 minutes
   Rhubarb sauce is simple: rhubarb and sugar. I like tart; if you prefer sweet add a bit more sugar.  The sauce will keep about a week in the fridge so double or triple the recipe if you like.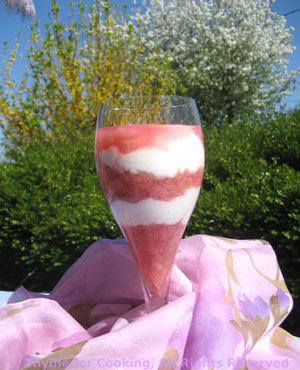 Ingredients:
2 cups sliced, fresh rhubarb, about 2 stalks
2 tbs sugar
1 tbs water
1 cup (8oz 240gr) vanilla yogurt
 Instructions:
Wash the rhubarb and slice it about 1/4" (.5cm) thick. 
No need to peel but pull off any stringy bits as you slice. Use a sharp knife.  
Put in a saucepan with the water and sugar. 
Cover and cook over medium heat until very soft. 
Taste and add more sugar if you like - before removing from heat. 
Chill.
To serve
In a parfait or champagne flute, or other glass, layer the rhubarb sauce and yogurt.  Serve.
Also good over vanilla ice cream....