Recipe in:
One Dish Dinners
  (Stir-Fries and Skillet Dinners)
Stir-fried Turkey with Spring Vegetables    
Total time: 25 minutes
    This cooks quickly, as most stir-fries do, allowing the bright green, spring vegetables to retain their color.  I use Brown rice but substitute Basmati if you prefer. Add other spring vegetables if you have them.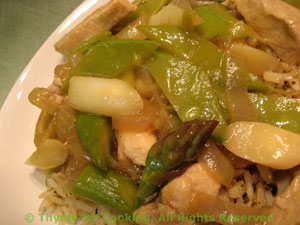 Ingredients:
10oz (300gr) turkey cutlets or tenderloin  

or you can use chicken

1 onion
2 cloves garlic
1 rib celery
6oz (180gr) asparagus green or white...

or a bit of each

4oz (120gr) snow peas (mangetout)
2 tsp sesame oil
2 tsp olive oil
1/2 cup (4oz, 120ml) chicken stock
1 tbs sherry

(optional)

1 tbs cornstarch (Maizena, corn flour) dissolved in
1 tbs soy sauce plus 1 tbs water
Brown Rice:
1/2 cup (3.3oz, 95gr) brown rice, quick-cooking
1 cup (8oz, 240ml) chicken stock or whatever your rice calls for
 Instructions:
Cook rice according to package instructions. 
Thinly slice onion. 
Mince garlic.
 Snap off the ends of the asparagus then roll cut into 1 inch (2.5cm) lengths. 
Trim snow peas, cut large ones in half or thirds. 
Cut the turkey into bite-size pieces. 
Heat olive oil in large nonstick skillet over medium-high heat.  
Add onion to skillet and stir-fry for 2 minutes. 
Add garlic and stir-fry another 2 minutes. 
Remove onion/garlic from pan and set aside.  Add sesame oil to pan and heat. 
Add turkey and stir-fry 3 - 5 minutes, until nicely browned.  Remove and put with onions. 
Add asparagus to skillet and stir-fry 3 minutes. 
Add snow peas to skillet and stir-fry 1 - 2 minutes longer. 
Return everything to the skillet.  Add chicken stock, sherry and bring to a boil.  
Dissolve cornstarch in soy sauce and water.  Add cornstarch mixture to pan and stir until thickened.  
Add more soy sauce if desired, according to taste. 
Serve over Brown Rice.