Spicy Turkey with Peas and Peppers
Total time: 30 minutes
    Cumin and ginger add a bit of spice to this dish, the cherry tomatoes and peas a bit of color.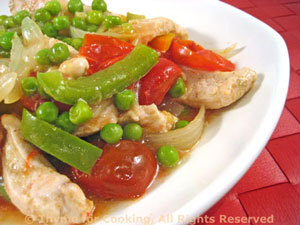 Ingredients:
 Instructions:
Thinly slice onion. 
Peel, mince garlic and ginger. 
Cut green pepper into thick strips, then cut in half. 
Cut tomatoes in half. 
Remove peas from freezer and set aside until needed.
Cut turkey into strips or bite-size pieces.
Heat olive oil in large nonstick skillet over medium-high heat.  
Add onion, pepper to skillet and stir-fry for 2 minutes. 
Add garlic, ginger, cumin and stir-fry another 2 minutes.
Reduce heat to medium, add turkey and stir-fry until cooked through.
Add chicken stock, peas, cover and simmer 5 minutes, until peas are hot. 
Add cherry tomatoes and heat through, about 1 minute. 
Stir in cornstarch / water mixture.