Recipe in:
One Dish Dinners
  (Stir-Fries and Skillet Dinners)
Turkey with Peppers, Feta and Olives over Couscous   
Total time: 30 minutes
   The Mediterranean flavors of peppers, olives and feta make bland turkey special.  Serve over Toasted Couscous, Basmati Rice or Barley. Use more or less feta, according to taste.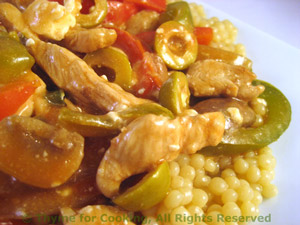 Ingredients:
10oz (300gr) turkey cutlets or tenderloin

1 onion
2 cloves garlic
1/2 green pepper
1/2 red pepper
4oz (120gr) mushrooms
1/4 cup green olives (about 15)
4oz (120gr) feta
1 tbs tomato paste
2 tsp olive oil
1/2 cup (4oz, 120ml) chicken stock
1 tbs sherry
2 tsp cornstarch (Maizena) dissolved in 2 tbs water
1/2 cup large or pearl couscous  

substitute Basmati Rice or tiny pasta

1 1/4 cups (10oz, 300ml) chicken stock  
 Instructions:
Thinly slice onion. 
Mince garlic.
Cut the peppers into strips.
Trim and slice the mushrooms.
Slice the olives into thirds.
Cut the turkey into strips - bite-size.
Cut feta into small cubes.
Heat olive oil in large nonstick skillet over medium-high heat. Add onion, peppers to skillet and stir-fry for 4 minutes. 
Add garlic, mushrooms and stir-fry another 4 minutes.
Add turkey and stir-fry 3 - 5 minutes, until golden.
Add chicken stock, sherry, tomato paste and bring to a boil.
Cover, reduce heat and simmer for 5 minutes.
Dissolve cornstarch in water.  Add to skillet and stir until thickened.
Add olives, feta and stir, just until the feta starts to melt.
Remove from heat and serve over couscous.
Couscous
Bring chicken stock and couscous to a boil in a small saucepan.
Cover and cook 10 minutes.
Uncover and drain any excess liquid.