Turkey Cutlets / Mustard, Onion Pan Sauce
Parmesan Potato Crisps
Broccoli with Bacon and Mustard
Turkey Cutlets with Mustard and Onion Pan Sauce
Total time: 25 minutes
  Turkey Cutlets with whole grain mustard and onions - simple, but full of flavor.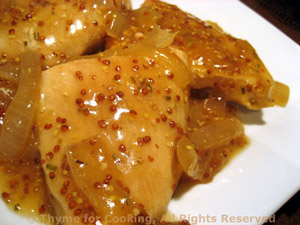 Ingredients:
2 - 4 turkey cutlets, 12oz, (360gr)
1 medium onion
2 cloves garlic
2 tsp olive oil
2 tbs whole grain mustard
1/3 (3oz, 90ml) white wine
1/3 (3oz, 90ml) chicken stock
2 tsp white Balsamic vinegar
 Instructions:
Vertically slice onion.
Mince garlic. 
Cut turkey into manageable pieces if needed. 
Sauté onion in oil in nonstick skillet over medium-high heat. 
When onion starts to brown, move it to the sides of the pan and sauté turkey cutlets until lightly browned. 
Add garlic and sauté briefly. 
Add mustard, chicken stock and wine.  Stir to combine. 
Cover, reduce heat and simmer until done, about 10 minutes. 
Uncover, stir in vinegar, and let cook uncovered until sauce is thick.  Serve.