Turkey Cutlets with Mustard Crust
Total time: 30 minutes
  The mustard - crumb crust keeps these nice and moist and gets deliciously crispy fried in just a bit of olive oil.  You can use chicken breasts in place of turkey, but they will need an extra 10 minutes of cooking time.... unless you pound them thin first.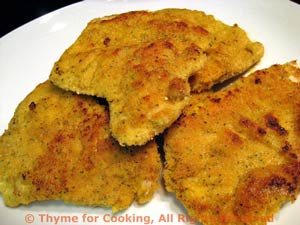 Ingredients:
2  - 3 turkey cutlets, about 12oz (360gr)
1 egg
2 tbs Dijon-style mustard
1/3 cup bread crumbs
1/2 tsp dried parsley
1/2 tsp dried basil
1/2 tsp garlic powder
1/3 cup Parmesan cheese
4 tsp olive oil
 Instructions:
If the turkey cutlets are very large (mine are) cut them in half for easier handling. 
In a bowl flat enough that you can lay the cutlets flat (or a small pie plate, or whatever works) lightly beat the egg with a fork.  Add the mustard and beat until well combined. 
In another, similar bowl combine the bread crumbs, Parmesan, herbs and garlic powder.
Using tongs or fingers, dip cutlets in the egg/mustard mixture, then in the crumb/cheese mixture, coating well. 
Lay out on wax or parchment paper and let rest for 5 - 10 minutes.
Heat 2 tsp oil in nonstick skillet large enough to hold all of the cutlets (or do it in two batches and keep them warm in 250F (125C) oven). 
When pan is hot (medium-high heat) add cutlets and sauté 5 - 6 minutes, until nicely brown. 
Add remaining 2 tsp oil to skillet and turn cutlets. 
Sauté on other side for another 4 - 5 minutes, until nicely browned and done.  Remove and serve.