Recipe in:
Barbecue
(Chicken and Other Poultry)
Grilled Turkey Cutlets Piccata
Couscous with Tomatoes and Basil
Sautéed Zucchini (Courgette) with Feta and Olives
Grilled Turkey Cutlets Piccata   
Total time: 30 minutes
    Turkey cutlets cook quickly, and work very well with marinades.  If you can't get them get a turkey tenderloin and either slice it into thin cutlets yourself or ask your butcher. You could also use boneless, skinless chicken breasts.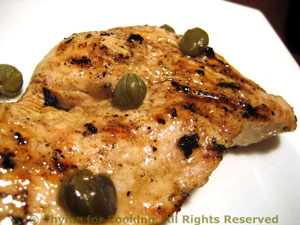 Ingredients:
2 - 4 turkey cutlets, depending on size,  12oz total weight  (360gr)
2 tbs capers (with liquid)
2 tbs lemon juice
2 tbs olive oil
 Instructions:
Put capers, lemon juice and oil in small bowl and whisk to combine - mixture will get very thick.
Put turkey in a shallow dish, spoon marinade over and let marinate for 15 minutes. 
Remove from marinade and cook on barbecue grill for 3 - 4 minutes per side depending on thickness - or until done.

Or

can be sautéed in nonstick skillet over medium heat for the same time - or until done. 
Remove from heat and serve, with a few more capers sprinkled on...