Turkey Cutlets Piccata 
Total time: 25 minutes
    Thinly sliced turkey cutlets cook quickly and are a great substitute for the veal cutlets normally used in this dish.  If you can't get them get a turkey tenderloin and either slice it into thin cutlets yourself or ask your butcher. You could also use boneless, skinless chicken breasts.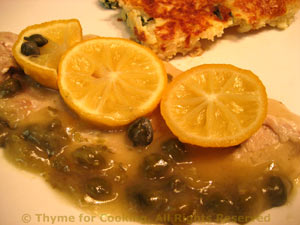 Ingredients:
2 - 4 turkey cutlets, 12oz, (360gr)
1/2 onion
2 tbs capers
1 lemon
1/2 cup (4oz, 120ml) chicken stock (broth)
1/2 cup (4oz, 120ml) white wine
1 tbs cornstarch (maizena, corn flower) dissolved in 1 tbs water
1 tbs olive oil
 Instructions:
Chop the onion.
Slice the lemon and pick the seeds out of the slices.
In medium nonstick skillet sauté the onion until tender.
Move onions to sides of pan and sauté turkey cutlets until lightly brown on both sides.
Add the chicken stock, wine and the capers.
Place the lemon slices on top of the turkey cutlets, cover, reduce heat and simmer 10 minutes.
Remove turkey cutlets (with lemon slices on top) to a platter and keep warm.
Stir in the cornstarch mixture and heat, stirring until thick.
Serve cutlets with sauce on the side - sprinkle on more capers if you like.