Lemon and Soy Glazed Turkey Cutlets
Pasta with Peanut Sauce
Broccoli with Lemon Pepper
Lemon and Soy Glazed Turkey Cutlets
Total time: 20 minutes
    Turkey cutlets, are thin slices of turkey breast meat.  They cook quickly and are particularly well suited to savory marinades and sauces.  If you can't find them, substitute thinly sliced turkey tenderloin or chicken breasts. This is an intensely flavored, savory dish.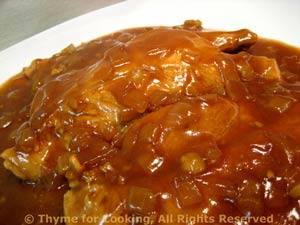 Ingredients:
 Instructions:
Combine soy sauce, lemon juice, brown sugar and stock in a dish.
Add turkey cutlets, turning to coat and allow to marinate for a bit.
Thinly slice onion.
Mince garlic.
Mince ginger if using fresh.
Sauté onion, garlic and ginger in oil in large nonstick skillet over medium heat for 5 minutes.
Add turkey (reserving marinade) and sauté until golden, turning once - pushing onion mixture to sides of pan to prevent burning.
Add reserved marinade, reduce heat and cook, covered 4 - 6 minutes longer or until done.
Remove turkey from pan.
Thicken pan juices by adding cornstarch mixture and stirring well.
Spoon over turkey and serve.