Recipe in:
Barbecue
(Chicken and Other Poultry)
Asparagus, Avocado and Cherry Tomato Salad
Grilled Cornish Hens with Lemon Honey Glaze
Skillet Roasted New Potatoes
Green Beans with Butter and Herbs
Grilled Cornish Hens with Lemon, Honey, Rosemary Glaze
Total time: 60 minutes
   If you can get them weighing 16oz they are perfect individual servings (with maybe a snack leftover).  If you get larger birds one may be enough.   When done, they should have a lovely, dark gold glaze.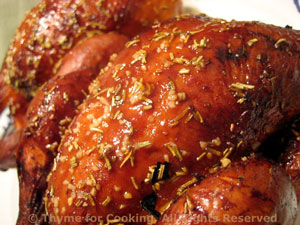 Ingredients
 Instructions:
Rub birds with 1 tsp of the oil. 
Cook on barbecue grill over indirect heat (either charcoal or gas), covered, for 45 - 60 minutes, depending on size or until done, basting half-way through.  Poultry is done at 160 F (70C) on your meat thermometer and/or the juices run clear when pierced with knife. 
Basting Sauce:
Chop rosemary. 
In a small bowl mix remaining oil, lemon, mustard, honey, rosemary and garlic. 
During last 30 minutes of cooking baste with sauce 2 or 3 times. 
When done, remove and serve - don't forget finger bowls (it's messy) and bone bowls (to keep your plates tidy). 
Or they can be baked in a shallow roasting pan in a 400F oven for 45 - 60 minutes, until done.  If baking, start basting immediately.