Recipe in:
Barbecue
(Chicken and Other Poultry)
Barbecued Chicken Thighs
Potato Salad with Pimento Dressing
Old-Fashioned Cucumber Salad
Barbecued Chicken Thighs
Total time: 35 minutes
   We didn't marinate the thighs but basted with barbecue sauce, like we would for proper Barbecued Chicken. Divide the sauce in half so you have some for dipping.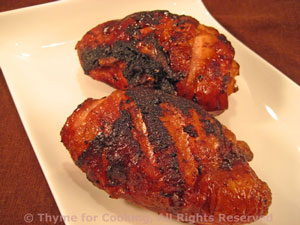 Ingredients:
4 chicken thighs
1 tsp olive oil
salt, pepper
Barbecue Sauce
1/4 cup ketchup
2 tbs red wine vinegar
1 tbs soy sauce
1 tsp cumin
1/2 tsp dry mustard
1/2 tsp paprika
1 tbs olive oil
 Instructions:
Sauce:

  In a small saucepan gently heat all ingredients for barbecue sauce, except oil. 
When warm, remove half of the sauce to a bowl. 
Add oil to the bowl to make the basting sauce.

Chicken:

Rub thighs with oil and sprinkle with salt and pepper. 
Cook thighs on barbecue grill for 25 minutes, turning once or twice. 
Start basting after 10 minutes and baste 2 - 3 times.  They'll be done when they are nicely browned and the juices run clear when pierced with a knife. 
Serve with remaining barbecue sauce on the side.