Recipe in:
Barbecue
(Chicken and Other Poultry)
Grilled Chicken Thighs
Total time: 40 minutes
   We marinated the thighs while the grill heated, then made a basting sauce with the marinade.  Leave the skin on for cooking, remove or not before eating.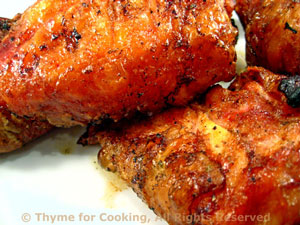 Ingredients:
4 chicken thighs
Marinade:
2 tbs lime or lemon juice  

fresh if you have it

1 tbs white Balsamic vinegar
2 tbs olive oil
1/2 tsp garlic powder
1/4 tsp ground ginger
Basting Sauce:
reserved marinade
2 tbs ketchup
2 tsp soy sauce
1/2 tsp cumin
1/2 tsp paprika
 Instructions:
Chicken Thighs:
Mix all ingredients for marinade, spoon over thighs and let marinate for 10 - 15 minutes.
When ready to cook, remove thighs and reserve marinade.
Cook thighs on barbecue grill for 25 minutes, turning once or twice. 
Basting Sauce:
Heat reserved marinade in a small saucepan.
Add ketchup, soy sauce, cumin, paprika and bring to a boil. 
Reduce heat and simmer 5 minutes.
Start basting the thighs after 10 minutes and baste 2 - 3 times. 
They'll be done when they are nicely browned and the juices run clear when pierced with a knife.