Recipe in:
Barbecue
(Chicken and Other Poultry)
Grilled Chicken Breasts Piccata
Green Bean and Quinoa Salad
Grilled Chicken Breasts Piccata
Total time: 30 minutes
  Capers, tarragon and lemon add a wonderful flavor to chicken breasts. Marinated for just 15 minutes, cooked on the barbecue grill and finished with a lemon, tarragon, caper sauce, these boneless chicken breasts make a lovely gourmet summer dinner, worthy of dinner guests... or just you!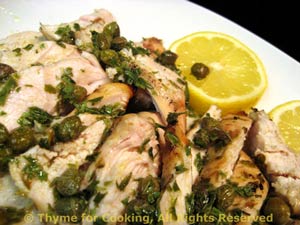 Ingredients:
2 chicken breasts, boneless, skinless
3 tbs capers (with liquid)
4 tbs fresh lemon juice,

about 1 lemon

4 tbs olive oil
2 tsp fresh snipped tarragon  

substitute 1 tsp dried
 Instructions:
Chop 2 tbs capers. 
Squeeze the lemon and remove any pips. 
Put lemon juice and oil in a small bowl and whisk well to combine, it should get thick. 
Put 3 tbs of the lemon/oil mixture into a separate bowl for the sauce. 
To the remaining marinade add the chopped capers. 
Put chicken in a shallow dish, pour the marinade with the chopped capers over and let marinate for 15 minutes. 
Snip the tarragon and add it to the sauce (reserved 3 tbs of lemon/oil), set it aside.

To cook:

Remove the chicken from marinade, discarding the marinade, and cook on barbecue grill for 8 - 12 minutes per side depending on size, or until done, take a peak and see. 

Or

can be sautéed in nonstick skillet over medium heat for the same time. 
Remove from heat, slice, drizzle the sauce over the top, sprinkle with remaining capers and serve.