Recipe in:
Barbecue
(Chicken and Other Poultry)
Grilled Chicken Breasts with Mustard Sauce
Barley with Zucchini (Courgette) and Tomato
Grilled Chicken Breasts with Mustard Sauce 
Total time: 35 minutes
   Grilled chicken breasts finished with a warm mustard sauce; a little bit of heat for summer cooking.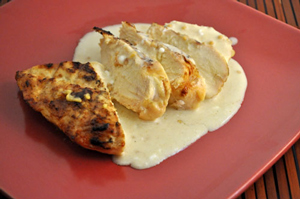 Ingredients:
 Instructions:
Combine stock, sherry in a small saucepan and bring to a boil over medium-high heat. 
Continue to boil until reduced to about 1/3 cup. 
Whisk in mustards, reduce heat and simmer 2 minutes. 
Remove from heat and allow to cool slightly. 
Stir in Greek yogurt.  
Mix 1 tbs Dijon mustard with 1 tbs olive oil and spread on chicken breasts. 
Cook on barbecue grill for 10 - 15 minutes or until done.  Remove from heat, slice and serve with sauce. 

Or

can be baked for 20 - 25 minutes 400F or sauté  for 15 - 20 minutes  - in all cases until done.