Recipe in:
Barbecue
(Chicken and Other Poultry)
Grilled Marinated Chicken
Brown Rice Pilaf
Lettuce Tomato Salad with Creamy Herb Dressing
Marinated Chicken Breasts, Grilled
Total time: 30 minutes
   This is a simple marinade made with ingredients found in most pantries.  The chicken is great as is, but will also be good tossed with salads or pastas.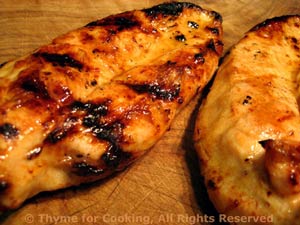 Ingredients:
2 chicken breasts, boneless, skinless
1 tbs Worcestershire sauce
3 tbs red wine vinegar
3 tbs olive oil
1/3 tsp garlic powder
1/2 tsp oregano
 Instructions:
In small bowl whisk together Worcestershire, vinegar, oil, garlic and oregano. 
Pour over chicken and let marinate for 15 - 20 minutes or up to 2 hours.
Cook on barbecue grill for 8 - 12 minutes per side or until done (test - take a peak), basting with any leftover marinade before turning.

OR

sauté in nonstick skillet for 8 - 10 minutes a side until nicely browned and done, basting with marinade.
Slice if you like and serve.