Recipe in:
Barbecue
(Chicken and Other Poultry)
Grilled Chicken Breasts with Honey Mustard
Quinoa
Sautéed Zucchini (Courgette) with Red Pepper
Grilled Chicken Breasts with Honey Mustard Glaze
Total time: 30 minutes
    The chicken breasts are first marinated in lemon, oil and garlic, then grilled and basted with a lemon, honey and mustard mix.  Since we are using the reserved marinade as a basis for the basting sauce resist the temptation to taste it.  And stop basting a few minutes before the chicken is done, to finish cooking the sauce.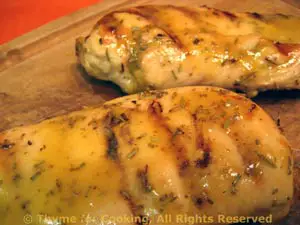 Ingredients:
2 chicken breasts, boneless, skinless
1/4 cup (2oz, 60ml) lemon juice  

preferably fresh

1/4 cup (2oz, 60ml) olive oil
1 tsp dried rosemary
1 tsp dried thyme
1 tsp garlic powder
2 tbs honey
2 tbs Dijon-style mustard
 Instructions:
In small bowl mix lemon juice, oil, herbs and garlic powder. 
Place chicken breasts in a dish with sides and pour marinade over.  Let marinate 10 - 15 minutes or up to 4 hours in the refrigerator. 
Remove from marinade, reserving marinade.
Pour reserved marinade into a small bowl.  Add honey, mustard and whisk to combine.
Cook chicken on barbecue grill for 7 - 10 minutes per side, or until done, basting with marinade sauce. 
Could also be sautéed in a nonstick skillet for same amount of time. 
Discard any leftover sauce.  Serve.