Chicken Breast with Chunky Tomato Yogurt Sauce
Pasta with Browned Butter and Pepper
Rutabagas with Bacon and Onion
Chicken with Tomato/Yogurt Sauce
Total time: 25 minutes
    This is not a 'chicken in tomato sauce' but a 'chicken with chunky tomatoes'.  If you hate tossing the tomato juice you can put it in a plastic bag and freeze it for the next time you need a bit of sauce.  The trick with using yogurt and tomatoes is not to let it boil or it may separate - no problem with taste, just appearance.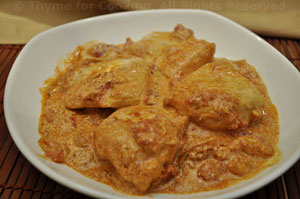 Ingredients:
2 chicken breasts, boneless, skinless
1 3/4 cup (15oz, 450gr) whole tomatoes
1/2 cup (4oz, 120gr) Greek or plain yogurt
1/2 tsp basil
1/2 tsp oregano
1/2 tbs oil
 Instructions:
Drain tomatoes, discarding or saving sauce for another use.  Roughly chop tomatoes. 
Heat oil in nonstick skillet.  Add chicken and brown lightly on both sides, about 4 minutes per side. 
Cover chicken, reduce heat and cook another 5 - 7 minutes, until the chicken is cooked through. 
Uncover, add tomatoes and herbs.   Simmer 5 minutes, uncovered. 
Add yogurt, stir well and heat through. 
Put chicken on small platter, spoon sauce over.