Chicken Thighs in Wine and Vinegar
Skillet Roasted New Potatoes
Sautéed Snow Peas
Chicken Thighs in Wine and Vinegar      
Total time: 25 minutes
     I skinned the thighs, but left the bone.  They are braised in a flavorful white wine, Balsamic vinegar and herb sauce.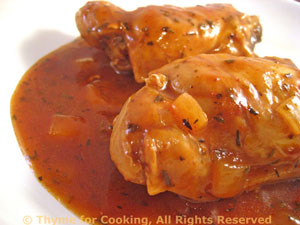 Ingredients:
4 chicken thighs
1 onion
2 cloves garlic
1/2 cup (4oz, 120ml) chicken stock
1/2 cup (4oz, 120ml) white wine
3 tbs Balsamic wine vinegar
2 tbs tomato paste
1/2 tsp marjoram
1/2 tsp thyme
2 tsp cornstarch (corn flour, maizena) dissolved in 2 tbs water
 Instructions:
Skin the thighs by simply pulling it off.  You may need to cut in a few places.  Discard skin.
Finely chop onion and mince garlic.
Heat oil in medium nonstick skillet over medium-high heat.
Add chicken thighs and brown on both sides, about 5 minutes.
Add onion, garlic and sauté 5 minutes longer.
Add stock, wine, vinegar, tomato paste, herbs and stir to combine. 
Turn the thighs once or twice to coat with sauce. Cover, reduce heat and simmer 15 minutes. 

To finish:

Remove thighs to a small platter.
Dissolve cornstarch in water.  
Increase heat under sauce, add cornstarch and stir until thickened and clear. 
Spoon over chicken thighs and serve.