Chicken Breasts with Tarragon Mustard Sauce  
Total time: 20 minutes
     Tarragon is a great herb for chicken, and a classic pairing in French cuisine.  The chicken is quickly pan-fried, then finished with a light tarragon sauce, with white wine and mustard.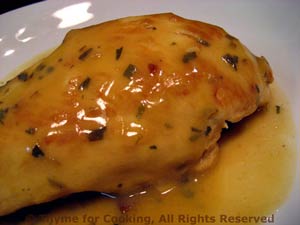 Ingredients:
2 chicken breasts, boneless, skinless
1 tbs dried chives
2 tsp dried tarragon
1 tbs Dijon mustard
1/4 cup (2oz, 60ml) white wine
1/4 cup (2oz, 60ml) chicken stock
1 tbs olive oil
 Instructions:
Heat oil in medium nonstick skillet over medium-high heat. 
Add chicken and brown well on both sides, about 10 minutes total. 
Reduce heat to medium-low, cover and let finish cooking, another 5 - 10 minutes.  Chicken is done when juices are clear when a sharp knife is inserted in the center. 
Remove chicken and cover with the pan lid or foil to keep warm. 
Increase heat under skillet to medium-high and add the herbs, mustard, white wine and chicken stock. 
Stir to loosen any brown bits, combine thoroughly and reduce a bit. 
Pour over chicken and serve.