Sweet and Sour Chicken Breasts
Fried Potatoes and Onions
Broccoli with Garlic and Parmesan
Sweet and Sour Chicken
Total time: 30 minutes
     This is based on the Chinese Sweet and Pungent sauces, but with red wine and without the soy sauce.  A simple, skillet chicken.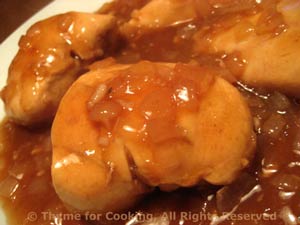 Ingredients:
2 chicken breasts, boneless, skinless
1/2 onion
1 tbs olive oil
3 tbs red wine
3 tbs chicken stock
3 tbs red wine vinegar
2 tbs brown sugar
2 bay leaves (laurel)
2 tsp cornstarch (maizena, corn flour) dissolved in 1 tbs water
 Instructions:
Chop onion.
Cut chicken breasts in half if large.
Heat oil in medium nonstick skillet.
Add onion and sauté about 5 minutes.
Move onions to the side and add chicken.  Lightly brown on each side, about 5 minutes.
Add wine, stock and vinegar and bring to a boil.
Add sugar and stir until dissolved.
Add bay leaves, cover, reduce heat and simmer 15 minutes.
Dissolve cornstarch in water.
Uncover and increase heat.
Remove bay leaves.
Add cornstarch and stir until thickened and clear.
Put chicken breasts on a small platter, spoon some sauce over and serve, remaining sauce on the side.