Chicken Stroganoff with Pasta
Total time: 30 minutes
    Chicken breast, cut up and quickly cooked, makes a very tender meat for the Stroganoff.  You may never go back to the traditional Beef! I break from tradition again, using Greek yogurt rather than the sour cream.  Greek yogurt is thicker and creamier than regular plain yogurt, but lower in fat and calories than sour cream.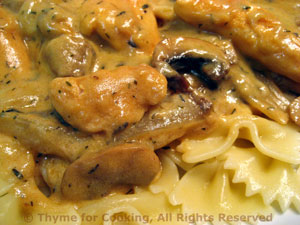 Ingredients:
2 chicken breasts, boneless, skinless
1 medium onion
4oz (120gr) mushrooms
2 tbs olive oil
1 tbs paprika
1/4 cup flour
1 cup (8oz, 240ml) chicken broth
1 tbs Dijon-style mustard
1 tsp thyme
2 tsp cornstarch (maizena) dissolved in 1 tbs water
1/2 cup (4oz, 120gr) Greek yogurt, plain yogurt or sour cream

1 1/4 cups (4.2oz, 125gr) pasta, bite-size 

  

I like farfalle or egg noodles for this
 Instructions:
Cook pasta according to package directions.
Peel and vertically slice the onion into thick wedges.
Brush any dirt off the mushroom and slice - trimming off the tough stem ends. 
Cut the chicken into bite-size pieces. 
Put flour and paprika into a medium food bag - large enough to easily hold the chicken. 
Mix the flour and paprika, then add the chicken.  Shake to coat well.
Heat 1 tbs oil in large nonstick skillet and sauté onions for 5 minutes. 
Add mushrooms and continue to sauté until onions are tender, about 10 minutes longer. 
Remove to a plate. 
Heat remaining 1 tbs oil in same skillet.  Add chicken and sauté until golden, 3 - 4 minutes. 
Add chicken stock, onions, mushrooms, thyme and mustard to skillet, cover and simmer 5 - 7 minutes. 
Dissolve cornstarch in water and stir into pan. Continue stirring until quite thick. 
Remove from heat, add yogurt, mix thoroughly. 
Put the pasta in large pasta bowl, spoon the Stroganoff over and serve.