Chicken Breasts with Spanish Rice
Total time: 40 minutes
    I use a quick cooking brown rice in this dish; it cooks in 20 minutes. You can use whatever rice you choose (except instant) just adjust the liquid and cooking time accordingly. The tomato juices cook right into the rice, adding color and flavor!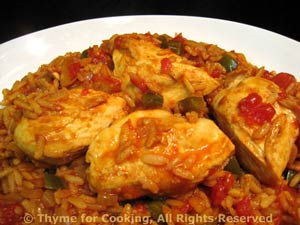 Ingredients:
2 chicken breasts, boneless, skinless
1 onion 
1/2 green bell pepper
2 cloves garlic
1 tsp chili powder
1/2 cup (3.3oz, 95gr) quick-cooking brown rice   

substitute basmati

1 3/4 cups (15oz, 450gr) whole tomatoes
1/4 - 3/4 cup chicken stock or water
2 tsp Worcestershire sauce
1 tbs olive oil
 Ingredients:
Chop onion and pepper.
Mince garlic.
Heat oil in deep skillet over medium heat.  Add chicken breasts, and brown on both sides, about 5 minutes each.
Remove to a plate. 
Add chili powder, onion, pepper, and garlic.  Sauté for 5 minutes. 
Open tomatoes and drain liquid into a bowl.
Chop the tomatoes and drain again.
Add drained tomatoes, Worcestershire sauce and rice to pan.
Measure the drained liquid and add enough water or chicken stock to equal 1 cup (or however much liquid your rice package calls for).
Pour this over the rice/vegetables in the skillet and stir well to combine. 
Lay the chicken breasts on top of the rice and cover.
Reduce heat to simmer and cook until rice is done, about 20 minutes - check rice package. 
Stir occasionally while cooking. 
When done, serve - either from the pan or arrange nicely on a platter.