Artichokes with Creamy Balsamic Vinaigrette
Prosciutto Wrapped Chicken on Pimiento Sauce
Risotto with Fava Beans
Prosciutto Wrapped Chicken Breasts on Pimiento Sauce
Total time: 40 minutes
     These are easy to make: slice a pocket, fill and tie.  The Prosciutto wrapping infuses the chicken with flavor and helps keep it moist.  The Pimiento Sauce adds just a bit of spice to it.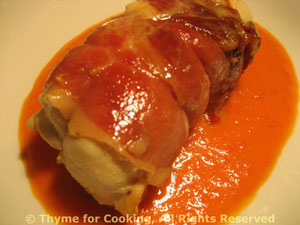 Ingredients:
 Instructions:
With a sharp knife make a long slit in the edge of the chicken breast - cutting horizontally and being careful not to cut through the other side.  Make the cut on the 'straight' edge of the breast.  You should have a pocket the shape of the breast with 1/2 inch of 'uncut' chicken around 3 sides. 
Tuck the sliced cheese inside. 
Lay 2 slices of Prosciutto side by side. 
Close the chicken breast and lay it on the Prosciutto at a slight angle,  Roll and wrap, covering the chicken breast completely in the ham, as best you can. 
Wrap the entire parcel with kitchen string to hold it together - and keep as much cheese inside as possible. 
Heat oil in a medium nonstick skillet over medium heat.  Add chicken and brown well on all sides, about 10 minutes total. 
Reduce heat to low, cover and let finish cooking, another 10 - 15 minutes.
Pimiento Sauce:
Put pimiento/pepper, garlic powder and chili powder into a blender.  Purée, adding as much stock as needed.
Pour into a small saucepan and stir in tomato paste. 
Gently heat until it starts to simmer. 
Remove from heat, stir in yogurt and cover to keep warm. 
To finish: 
Remove chicken from heat.  Snip the string in a few places and remove. 
Spoon some Pimiento Sauce onto the plates, place the chicken in the center and serve, any remaining sauce on the side.