Mustard Fried Chicken Breasts
Oven Fries
Rutabagas with Bacon and Onion
Mustard Fried Chicken Breasts
Total time: 30 minutes
   I don't remember where the original recipe came from but I've been making these for years.  The crust is light, yet crisp and the chicken tender; the mustard adding just a hint of flavor.  I use the Parmesan in a can for this rather than freshly grated - it's drier and works better for the coating..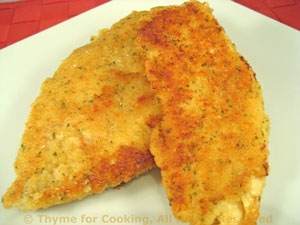 Ingredients:
2 chicken breasts, boneless, skinless
1 egg
2 tbs Dijon-style mustard
1/4 cup dry bread crumbs
1 tsp thyme
1/2 tsp garlic powder
1/4 cup Parmesan cheese
2 tbs olive oil
 Instructions:
In a bowl flat enough that you can lay the chicken breast flat (or a small pie plate, or whatever works) lightly beat the egg with a fork.
Add the mustard and beat until well combined.
In another, similar bowl combine the bread crumbs, Parmesan, thyme and garlic powder.
Heat 1 tbs oil in nonstick skillet (large enough to hold both chicken breasts) over medium heat.
With tongs or fingers dip both sides of chicken breast in egg mixture then in crumb mixture.
Place in pan and sauté  8 - 10 minutes.
Add remaining 1 tbs oil to skillet and turn breasts.
Sauté on other side for another 6 - 8 minutes, or until done.  They should be nicely browned.  Remove and serve.