Chicken Breasts with Mushrooms and Chevre Sauce
Quinoa with Browned Shallots
Sautéed Shredded Brussels Sprouts
Chicken Breasts with Mushrooms and Chevre  
Total time: 30 minutes
    This is a quick pan sauce, thickened with creamy goat cheese.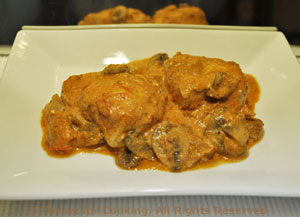 Ingredients:
2 chicken breasts, boneless, skinless
1/2 onion
4oz (120gr) mushrooms
1/2 tsp chili powder
1/2 tsp oregano
1 tbs Worcestershire
2oz (60gr) soft goat cheese, chevre, 

about 1/3 carton

1 cup (8oz, 240ml) tomato sauce
2 tsp olive oil
 Instructions:
Clean and thickly slice mushrooms. 
Roughly chop onion.
Heat oil in medium nonstick skillet.
Add chicken breasts and brown on both sides, about 7 minutes total.  Remove.
Add onions, mushrooms, chili powder, Worcestershire sauce to pan and sauté 5 minutes.
Return chicken to pan, add tomato sauce, oregano, cover, turn heat to low and simmer 15 minutes, until chicken is cooked through.
Remove chicken and cover with the pan lid to keep warm. 
Add goat cheese to skillet, stirring well to melt and combine.
Spoon mushroom sauce over chicken and serve.