Chicken Divan
Total time: 45 minutes
     An old classic, updated for a healthier lifestyle, but still with the proper amount of decadence.  I use yogurt instead of sour cream, less cheese, stock instead of 'condensed creamed' soup, and no mayonnaise.  I think it's better than the original....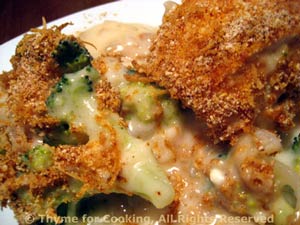 Ingredients:
2 chicken breasts, boneless, skinless
1/2 medium head broccoli (enough for 2)
2 shallots
1 clove garlic
1 tbs olive oil
3/4 cup (6oz, 180ml) chicken stock
1/2 cup (4oz, 120ml) white wine
2 tbs cornstarch (maizena) dissolved in 2 tbs water
1/2 cup (4oz, 120gr) Greek yogurt or crème fraiche
1/2 cup (2oz, 60gr) Gruyère, shredded
1/4 cup (1oz, 30gr) Parmesan
1/4 cup dry bread crumbs
1 tsp paprika
 Instructions:
Put chicken stock in a medium skillet, just large enough to hold chicken breasts. 
Cut breasts in half (the short way) and add to stock. 
Cover pan and poach over medium heat until done, about 15 minutes.
Cut broccoli into small florets (with some stem), put into a steamer basket and steam over medium heat until barely tender, 6 - 7 minutes.
Finely chop shallots and garlic (techniques).
Heat oil in a medium saucepan over medium heat. 
Add shallots and garlic and sauté. 
Add white wine and simmer. 
When chicken is done, remove from stock and add stock to white wine/shallot mix. 
When simmering nicely thicken with dissolved cornstarch. 
Add yogurt and shredded cheese, stir well.  Remove from heat. 
In a baking dish (I use my 8 X 11 inch (20 X 27.5cm) oval ceramic) spoon 1/3 of the sauce. 
Arrange drained broccoli over cheese sauce. 
Put 1/3 sauce over broccoli. 
Arrange chicken on top, and pour over remaining sauce. 
Mix the Parmesan, bread crumbs and paprika and sprinkle over all. 
Bake in a 400F (200C) oven 15 - 20 minutes, until hot and bubbly.  Serve directly from the dish.