Creamy Chicken with Carrots
Total time: 25 minutes
    Another skillet dinner: cook the chicken and carrots together and serve over rice. And, it's yogurt, not cream, for a healthier finish.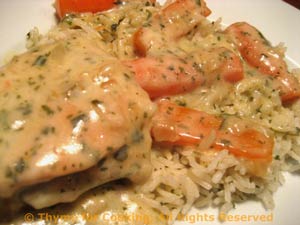 Ingredients:
2 chicken breasts, boneless, skinless
3 carrots
1 onion
1 clove garlic
1 tbs dried parsley
1 tsp dried tarragon
1 cup (8oz, 240ml) chicken stock
1 tsp Dijon-Style mustard
2 tsp cornstarch dissolved in 1 tbs water
4 tbs (2oz, 60ml) Greek or plain yogurt

Basmati Rice:

1/2 cup (3.3oz, 95gr) Basmati rice
1 tsp butter
1 cup (8oz, 240ml) chicken stock or water
 Instructions:
Chop onion, mince garlic. 
Peel and cut carrots into 2" (5cm) lengths.  Cut each length in half or quarters, depending on size. 
Cut chicken breasts in half the short way. 
Heat oil in a large skillet over medium heat. 
Add onion, garlic, and sauté until tender, 4 - 5 minutes. 
Add chicken and brown lightly, about 3 minutes per side. 
Add carrots, stock, mustard, herbs, cover and simmer until chicken is done and carrots tender, about 15 minutes. 
Dissolve cornstarch in water and stir into skillet. 
Remove from heat, stir in yogurt. 
Serve over Basmati Rice.
Basmati Rice: 
Melt butter in a small saucepan over medium heat. 
Add rice and sauté, stirring for 2 - 3 minutes. 
Add stock or water and thyme. 
Cook rice for length of time on package. 
When done fluff with fork and serve.