Sautéed Chicken Breasts with Bacon and Mushrooms
Roasted New Potatoes
Glazed Carrots and Onions
Sautéed Chicken Breasts with Bacon and Mushrooms
Total time: 30 minutes
    One cannot go wrong with mushrooms and bacon.... A bit decadent, perhaps, but life is for living. My bacon is very lean, so I have to sauté it in oil.  Use it or not, as needed.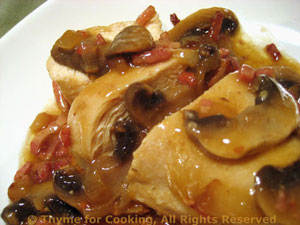 Ingredients:
2 chicken breasts, boneless, skinless
1 onion
2 cloves garlic
4oz (120gr) mushrooms
2oz (60gr) bacon   

about 2 - 3 slices

1 tsp olive oil
1/2 cup (4oz, 125ml) white wine
1 tsp cornstarch (maizena) dissolved in 1 tbs water
 Instructions:
Roughly chop onion. 
Mince garlic. 
Clean and thickly slice mushrooms. 
Roughly chop bacon. 
Heat olive oil in medium skillet over medium heat. 
Add bacon, onion, garlic, and sauté 5 minutes. 
Add mushrooms and sauté 5 minutes longer. 
Move onion/mushrooms to the sides of the pan.
Add chicken breasts and brown lightly on both sides, about 7 minutes total. 
Add white wine, reduce heat to low, cover and simmer until chicken is done, 10 - 15 minutes longer.
Remove chicken to a plate. Increase heat under skillet.
Add cornstarch mixture to mushroom bacon sauce, stirring until thickened. 
Spoon over chicken and serve.