Popovers
Total time: 45 minutes
     These are the easiest 'bread' possible to make.  The only things to remember is not to whisk too thoroughly (it makes them tough, lumps are okay), and eat them hot from the oven slathered in butter.... how hard is that?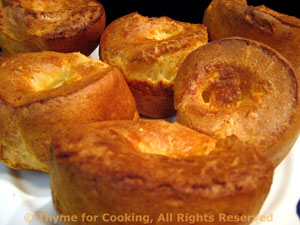 Ingredients:
muffin pan for 6 normal size muffins
2 eggs
1 cup (4.5oz, 135gr) flour
1 cup (8oz, 240ml) milk
pinch of nutmeg (optional)
pinch of salt (optional)
 Instructions:
Preheat oven: 450F (230C)
Butter muffin pan - even if it is nonstick but not if it's silicone.  
Lightly beat eggs with fork or hand whisk. 
Add remaining ingredients and whisk lightly - do not try to get out all of the lumps - doing this would cause over beating and tough popovers. 
Ladle into muffin pan - cups should be 1/2 - 2/3 full. 
Bake for 25 minutes. 
After 25 minutes turn temp down to 350F (180C) and continue baking 15 minutes more until nicely browned. 
Remove and serve.