Sautéed Mushrooms 
Total time: 15 minutes
  I make these whenever I have a few extra mushrooms on hand.  Usually they get eaten with a toothpick before ever reaching the table....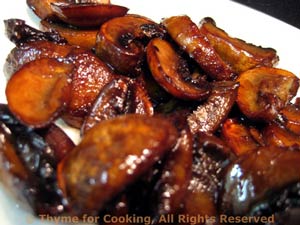 Ingredients:
4oz (120gr) mushrooms
1 tbs Worcestershire sauce
1 tsp butter
1 tsp olive oil
 Instructions:
Clean mushrooms and thickly slice. 
Heat butter, oil and Worcestershire in medium nonstick skillet over medium heat. 
Add mushrooms and sauté, stirring frequently, until they are dark and glazed, about 10 minutes.  You may have to turn the heat down a bit after 7 or 8 minutes. 
Set aside and partially cover to keep warm... Or start to nibble..