Oatmeal Drop Biscuits
Total time: 20 minutes
      Very easy, just drop and bake.  The egg and 3 tsp of baking powder make these raise quickly and get quite large and light.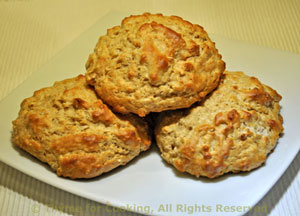 Ingredients:
1/2 cup (2.25oz, 70gr) white all purpose flour
1/2 cup (2.1oz, 65gr) whole wheat flour  or all white
1/2 cup (1.5oz, 45gr) oatmeal
3 tsp baking powder
1/2 tsp salt
3 tbs butter
1 egg
2 tbs honey
1/3 cup (3oz, 90ml) milk
 Instructions:
Combine flours, oatmeal, baking powder and salt in a bowl and stir well to combine.
Add the butter and cut in with a pastry cutter, fork or 2 knives until well blended.
In another bowl whisk egg lightly.
Add milk, honey and whisk lightly.
 Add wet ingredients to dry ingredients and stir gently until just combined.
Dividing the dough into 6ths, spoon onto nonstick or lightly greased baking sheet, 2 inches apart.
Bake for 10 - 12 minutes at 400F (200C) oven or until lightly browned.
Remove and serve immediately.