Veal Paprika
Total time: 30 minutes
      The tender veal scallops cook quickly and are finished with a sauce  of mushrooms, paprika and yogurt.  Chicken breasts, pounded thin, or turkey scallops can substitute for the veal.  Both would need a bit more cooking.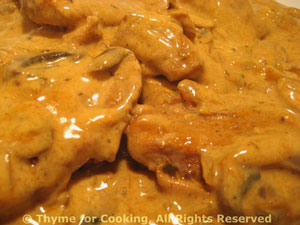 Ingredients:
12oz (360gr) veal cutlets, thinly sliced - scallops
4oz (120gr) mushrooms
1 onion
2 cloves garlic
1 tbs paprika
1 tsp Worcestershire sauce
1/2 cup (4oz, 120ml) white wine
1/2 cup (4oz, 120gr) Greek yogurt
2 tsp cornstarch (maizena)
1 tbs water
1 tbs olive oil
 Instructions:
Trim and slice mushrooms. 
Cut onion in half, then slice vertically. 
Mince garlic.
In a large, nonstick skillet heat the oil over medium heat. 
Add veal and quickly brown on both sides, about 1 1/2 minutes each.  Remove to a platter. 
Add paprika, onion, garlic, mushrooms, and sauté 5 - 8 minutes, until tender and starting to brown slightly. 
Add white wine, Worcestershire, and stir well, scraping up any brown bits. 
Add veal and any juices on the platter, cover and simmer 2 - 3 minutes. 
Remove veal back to platter and cover with the hot pan lid. 
Dissolve cornstarch in water.  Stir into skillet, thickening sauce. 
Stir in yogurt and heat through, without boiling. 
Spoon sauce over veal and serve.