Caramelized Onion Crespèu
Braised Veal with Olives and Capers
Gnocchi
Braised Veal with Olives and Capers on Gnocchi    
Total time: 1 hour 10 minutes
     Large pieces of tender veal, braised with 2 kinds of olives and finished with capers; all in a simple white wine sauce.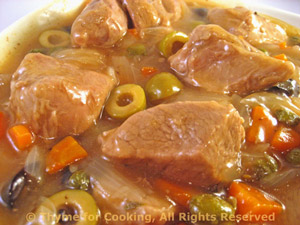 Ingredients:
14oz (420gr) veal
1 cup (8oz, 240ml) white wine
2 carrots
1 onion
10 black olives 

I used dry-cured Greek olives

10 green olives  

I used pimento-stuffed olives

2 tbs capers
2 bay (laurel) leaves
2 tsp olive oil
1 tbs cornstarch (maizena) dissolved in 2 tbs water
Gnocchi, 8oz (240gr)
 Instructions:
Cut veal into large chunks if needed.
Peel and slice carrots.
Roughly chop onion.
Slice olives in thirds.
Heat olive oil in medium Dutch oven or other pot with tight-fitting lid.  Add veal and brown on all side.
Add white wine and stir up any brown bits on the bottom.
Add carrots, onion, green olives and bay leaves.
Bring to a boil, reduce heat, cover and simmer for 60 minutes.
Dissolve cornstarch in water.
Turn the heat up under the pot and uncover.
Add capers and black olives; remove bay leaves.
Give the cornstarch mixture a stir and add to the pan a little at a time, stirring, until thickened to your liking.  

Gnocchi:

Cook according to package directions.

To serve:

  Put the gnocchi onto a platter.  Spoon veal on top and serve.