Swedish Meatballs with Egg Noodles
Total time: 30 minutes
   Traditionally served with egg noodles (home made) I usually use any bite-size pasta, preferably a bit 'hearty'.  To stick with tradition you could make small dumplings or hand cut noodles.  The dill is the secret to this dish.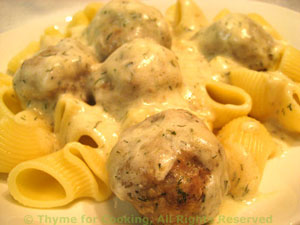 Ingredients:
8oz (240gr) ground beef
1 small onion
1/3 cup bread crumbs
1 egg
2 tsp dried dill weed
1 1/2 cups (12oz, 360ml) chicken stock
1/2 cup (4oz, 120gr) Greek or plain yogurt
1 1/2 tbs cornstarch (corn flour, maizena) dissolved in 2 tbs chicken stock
1 1/4 cups (4.2oz, 125gr) pasta  or 8oz (240gr) fresh egg noodles
1 tbs butter
 Instructions:
Cook noodles or pasta according to package directions. 
When done, drain and toss with butter.
Meatballs:
Mince onion.
In medium bowl combine onion, half of the dill, the egg, bread crumbs and beef.  Mix well and form into small meatballs, about 1" (2.5cm) in diameter.
In a medium skillet with lid heat the chicken stock. 
When simmering add the meatballs, being careful that they don't touch.  Cover and continue to simmer until done, stirring and turning the meatballs once or twice, about 15 minutes.  
To finish:
Dissolve cornstarch in 2 tbs chicken stock. 
When meatballs are done add the dill to the sauce and move the meatballs to the sides of the pan. 
Turn up the heat a bit and add the cornstarch mixture, stirring until thickened and clear.
Remove meatballs from heat and stir in the yogurt, mixing well. 

Serve, meatballs on top of or next to the pasta.

 

Sprinkle with a bit more dill...