Spaghetti with Ginger Meatballs
Brussels Sprouts with Butter and Pepper
Spaghetti with Ginger Meatballs
Total time: 35 minutes
    Fresh ginger and a bit of soy sauce add a subtle Asian flavor to these meatballs.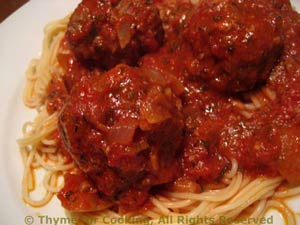 Ingredients:
10oz (300gr) ground beef
1 egg
1/4 cup crumbs
1 tbs Dijon-style mustard
1 tbs soy sauce
1 tbs Balsamic vinegar
1 tbs minced ginger, divided in half
2 cloves garlic, divided in half
1 onion, divided 1/4  /  3/4
1 tbs dried parsley, divided in half
1 tbs dried thyme, divided in half

4oz (120gr) spaghetti

 

(make a circle with thumb & index finger, about 1" (2.5 cm) - 1 1/4" (3cm) in diameter, you're own personal pasta measurer that you can never misplace!)

Sauce:
half of the ginger, garlic, herbs,  3/4 onion
1 tsp paprika
1 tsp olive oil
1 tsp sesame oil
1 tsp soy sauce
15oz (450gr) whole tomatoes
1 tbs tomato paste
1/2 red bell pepper
 Instructions:
Cook pasta according to package directions.
Mince garlic and ginger.
Roughly chop onion, then mince 1/4 of it.
Roughly chop pepper.
Roughly chop tomatoes, reserving all juices.
In a large bowl, lightly beat egg with a fork.
Add bread crumbs, mustard, vinegar, soy sauce, half of the ginger, garlic, herbs and the 1/4 minced onion. 
Mix well, add beef, mix well (use your hands). 
Form into meatballs, about 1.5" (5cm) in diameter. 
In large nonstick skillet heat oils over medium heat.
Add paprika and sauté briefly.
Add remaining onion, garlic, ginger and pepper.  Sauté until tender and onion is transparent, 5 - 6 minutes. 
Add tomatoes, sauce, tomato paste, soy sauce and remaining herbs. 
Heat to a simmer. 
Drop the meatballs in carefully, trying to keep them separate.  Cover and simmer until meatballs are done, about 15 minutes.  Stir once or twice. 
When pasta is done, drain and put into a large bowl. 
Pour meatballs and sauce over the top and serve.