Spicy Barbecued Burgers
Total time: 20 minutes
        Slightly spicy burgers, topped with a ketchup based sauce.  Serve with or without buns, pickles and onions. They have enough flavor to stand alone.  If cooking on the barbecue grill, a grill basket or mat makes it easier.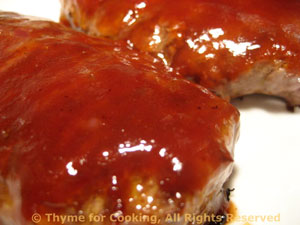 Ingredients:
12oz (360gr) ground beef
1 tsp chili powder
1 tsp garlic powder
4oz (120gr) chopped green chilies (or jalapeños' if you prefer)
2 tbs ketchup, divided
1 tbs Worcestershire sauce
 Instructions:
Put beef, chili powder, garlic powder, chilies and 1 tbs ketchup into a large bowl and mix well. 
Shape into 3 - 4 patties. 
Cook on barbecue grill for 4 - 8 minutes per side, or until done to your liking. 
Mix 1 tbs ketchup and Worcestershire sauce.  After you turn the burgers, baste with ketchup sauce.  Serve.

Or

sauté in a nonstick skillet for the same amount of time, depending on how you like them done.